■ Let me echo Michael Ramirez's wish: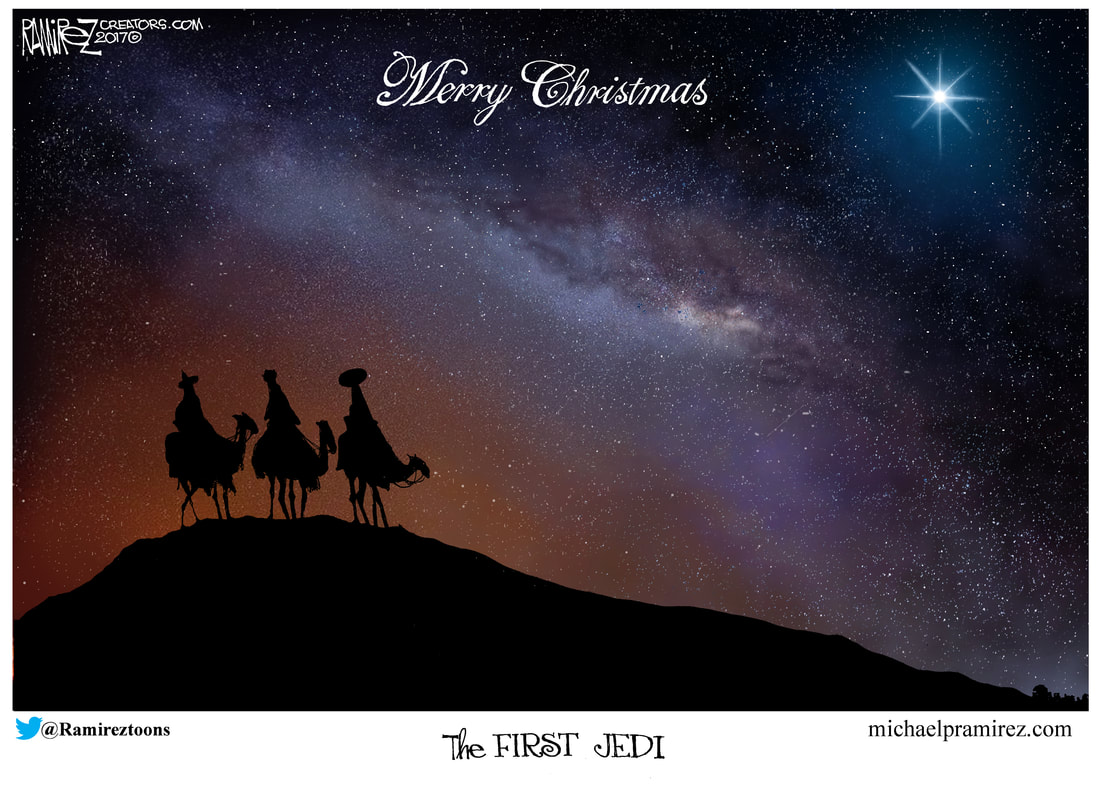 I'm not sure the "First Jedi" caption is theologically sound, but no matter.
---
■ I thought about skipping the Proverb du Jour today, but I just couldn't bring myself to do it. So here's Proverbs 17:15:
15 Acquitting the guilty and condemning the innocent—
the Lord detests them both.
OK, so arguably… that kind of sounds like Santa and the whole naughty-or-nice listmaking. Sure.
---
■ Politico has an apolitcal article about NORAD's crazy Santa cause. If that activity has been (heh) flying under your radar, then educate yourself on the history and the elaborate present of "the Pentagon's most elaborate propaganda operation."
Sixty-two years ago…
It all started long ago with a typo in a Sears department store ad: "Hey, Kiddies!" Santa Claus exclaimed. "Call me direct and be sure and dial the correct number."

But the number printed in the newspaper in December 1955 had a digit wrong — and was instead the direct line into the secret military nerve center in Colorado Springs, Colo., where the Pentagon was on the lookout to prevent nuclear war. The Air Force officer and World War II fighter pilot who took the first call that day for Father Christmas thought it was a crank — and Col. Harry Shoup sternly said so.

"The little kid started crying," Shoup's daughter, Terri Van Keuren, recalled in an interview. "So Dad went into his 'Ho ho ho' and got the kid's list."
I think the military budget needs trimming, but… OK, I'm weak. Cut this program out last.
---
■ A. Barton Hinkle updates the New York Sun's response to Virginia, who wondered if her little friends' claims about there being no Santa were true. And it is not good news: No, Virginia...
Virginia, your little friends are right. There used to be a Santa Claus, but not anymore.

Oh, he is real, dear girl. He most certainly exists. He exists as certainly as love and generosity and devotion exist. But he has gotten out of the gift-giving game.

It all started a few years ago when agents from the Occupational Health and Safety Administration stormed into his workshop, waving a warrant. An elf disgruntled over Santa's decision not to stock decaf in the break room had dropped a dime, and when the agents arrived they found more than a dozen violations of federal rules.
Apparently OSHA figured out how to extend its jurisdiction to the North Pole. Sorry kid.
---
■ Here's xkcd on Santa: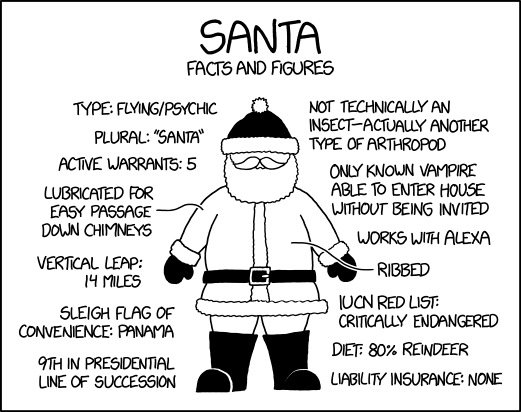 Mouseover text: "We've gotten him up to 20% milk and cookies through an aggressive public campaign, but that seems to be his dietary limit. Anything above that and he starts developing nutritional deficiencies."
---
■ But Christmas is not all about Santa, is it? Rich Lowry writes on Handel's "Messiah": Let Us Sing of Greater Things.
The work is ubiquitous and deserves every bit of its popularity. It is a Christian masterpiece known by everyone, a soaring work of genius that never loses its ability to astonish and inspire, whether at a performance of the New York Philharmonic or at a local church singalong.

After hearing it performed on Christmas Day in 1843, Ralph Waldo Emerson described a common reaction, "I walked in the bright paths of sound, and liked it best when the long continuance of a chorus had made the ear insensible to music, made it as if there was none; then I was quite solitary and at ease in the melodious uproar."
It's a funny feeling to realize, 174 years later: I have felt just like Emerson, and for the same reason.