■ We occasionally run up against a Proverb that seems jarring to modern ears, and Proverbs 19:10 is one of those:
10 It is not fitting for a fool to live in luxury—
how much worse for a slave to rule over princes!
Other translations say "servant" instead of slave, so that's a little better, but I suspect "slave" is the more accurate translation. The message is pretty clear: Know your place, peon. The folks at the top are there because they deserve to be.
We take 'em as they come.
---
■ Protectionism often seems like a fine idea except when it comes time to buy stuff you need. When you're trying to recover from a disaster, that makes it somewhat worse. At Reason, Christian Britschgi notes a recent example: Federal Ban on Foreign Sand Rubs Florida the Wrong Way
Thanks to an obscure provision of the 1986 Water Resources Development Act, the federal government and the South Florida communities hit by Hurricane Irma have been prohibited from procuring foreign sand for their beach replenishment projects until all other feasible domestic sources have been tapped.
Note that since Your Federal Government is paying for a lot of this, it's your tax dollars at issue here. Pity that all those people complaining about "price gouging" have gone silent.
---
■ Oh no! A marketing magazine notes that New Hampshire Newcomer Maura Sullivan Commits Logo Gaffe in Joining a Congressional Race. Ms. Sullivan wants to be my CongressCritter, replacing Carol Shea-Porter. The magazine is not local, as it takes pains to make clear:
We tend not to hear too much about New Hampshire, with the U.S. presidential election cycle's tabbing of its primary as the first one in the race for the White House arguably being its chief claim to fame. Though the Granite State will not grab its next share of the limelight in that context until January 2020, its residents nonetheless take pride in their political sway and civic engagement, the latter deftly exemplified by their "Live Free or Die" motto. Politics and pride converged Monday when Maura Sullivan, in announcing her candidacy for the state's First Congressional District vacancy, issued a campaign logo that excised a part of her new state's southwest corner, drawing rebukes from constituents.
I would bet that it drew more snickers than rebukes. Here 'tis, stolen from the Boston Globe: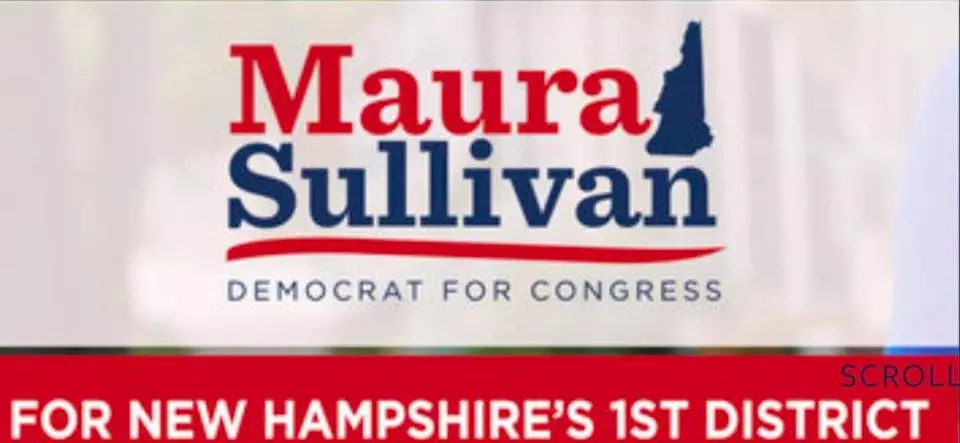 Horrors.
Ms. Sullivan's website has the now-fixed logo. Over it is the quote:
"Just as I fought in the Marines, and fought for Veterans, servicemembers, and their families in the Obama Administration -- I am ready to fight tirelessly for Granite State families."
Yes, she was in the Marines. You'll note the theme: fought, fought, fight. She's a fighter. That focus-groups well. (The rest of the text on that web page contains three "fighting"s, 1 "fight", another "fought".
The Globe article notes her deep roots in New Hampshire: she has lived here since June.
---
■ Another LFOD was spotted by the Googlebot at a commercial real estate site, costar.com, in an article by one Mark Heschmeyer: Hundreds of Localities Fortify Their Amazon HQ2 Bids with Hefty Financial Incentives. "Hefty" as in Irvine, CA's $5 billion, Philly's $2-$3 billion, etc. But:
Taking its extreme slogan of 'Live Free or Die' to heart, New Hampshire's proposal offered no incentives but simply highlighted the fact that the state has no use tax, sales tax, estate tax, internet access tax, capital gains tax, broad-based personal income tax and low business taxes.

"New Hampshire does not rely on complex and contingent special tax deals because New Hampshire never collects the tax in the first place. So, our government process does not pick winners and losers. Instead, every citizen and every business is a winner," the proposal stated.

The state estimated the benefits of its tax policy to Amazon at $600 million a year.
Extreme? Kiss my ass, Mark.
---
■ Richard Greene, writing in the Fort Worth Star-Telegram, writes of a visit to our fair state, and his discovery that Texans and Yankees share common heritage. Original Declaration signers William Whipple and Josiah Bartlett [signers number 2 and 3, respectively, just behind J. Hancock], and Matthew Thornton are profiled.
These men were the personification of the state's famous motto — "Live Free or Die!" They knew their rebellious behavior was a hanging offense but declaring their birthright to freedom was well worth the risk.

Such an aggressive statement of resolve against tyranny would echo through the little Texas town of Gonzales in 1835 in the first military engagement of the Texas Revolution.

When Mexican soldiers approached Gonzales with orders to seize the town's cannon, they were greeted with a flag bearing the famous and proud words, "Come and Take It."
"Come and Take It" could have been the Texas state motto, but they kind of wimped out with "Friendship".